USE THESE GUIDELINES TO ENSURE YOUR EVENT GETS PRIORITY CONSIDERATION ON YOUR GUEST'S CALENDARS.
BRING ON THOSE RSVPS!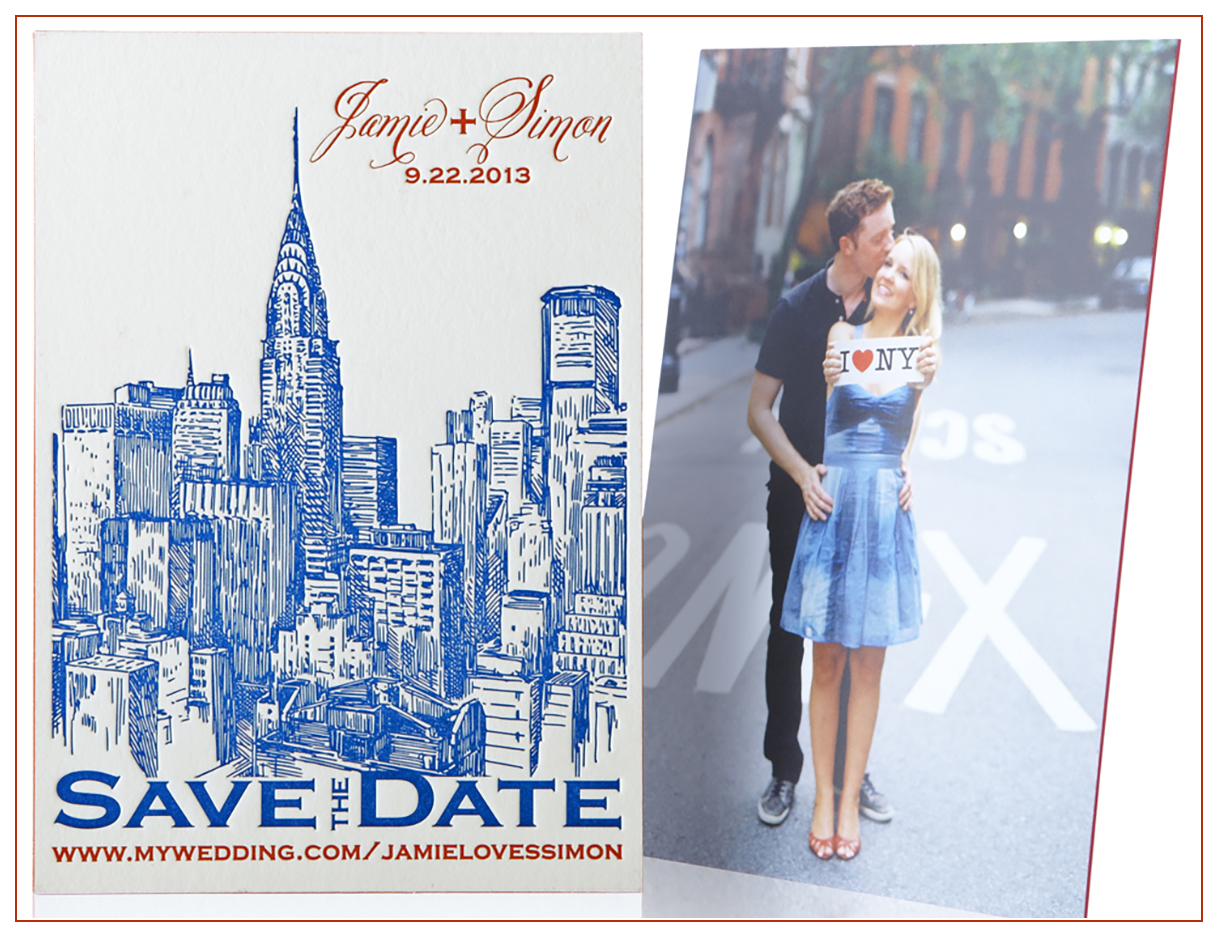 Save the date cards are becoming an increasingly common addition to your mailbox. With the changing topography of social communication, unique save the date cards are a shiny new gadget in both the social and professional correspondence took box. Usually a save the date card comes from a couple announcing their wedding, but gala chairmen, upscale boutiques, corporate event planners, and even socialites planning simple, elegant fetes are finding that a save the date announcement can be very helpful in increasing turnout and engagement
INCLUDE A MOMENTO
The entire save the date can be a keepsake or functional piece–something pretty that is useful in everyday life could fit the bill. Some fun ideas from our arsenal have included photos with magnets, wine bottle labels, bookmarks (yes, people still use them!), a card inserted into a luggage tag, and self-standing paper frames.
DESIGN A TEASER TO INTRODUCE YOUR EVENT - We ♥ NY!
This is our motto – even executed simply. Your event has a special element, even if you haven't approached the details of specific theme or color. A location (general or specific), a color palette, a mood, a design detail–without revealing too much, will help to get your guests ready and anticipating your gathering. Your save the date card does not have to match your event invitation, but is should be consistent with the tone of your event. Take a look at the save the date card above that introduced a whimsically elegant wedding with New York City flavor. Jamie and Simon let us use a skyline design with a great photo from their engagement shoot. It set the tone perfectly for their Chelsea rooftop nuptials. The tactile letterpress with a high quality photo was the perfect extra touch to get the buzz started among friends, family and co-workers. It's proven that the more texturally pleasing the piece is, the less likely it is that it will get lost or tossed. In addition to asking the recipient the save the date, the card also helps to set the tone for the occasion and gives a visual reminder of who and what is in store for them at your event
GO HIGH TECH
If you plan to host a blog, website or Facebook page for your event, include a link at the bottom of your save the date card. If you are having custom save the date cards designed, consider adding a QR card. This is an insert that is the size of a business card with a QR code printed on it. Guests can slip it into their wallet and access your event date, your gift registry, whether or not you are hosting children at the wedding–all the details that cannot be included on your invitation–with a quick scan from their smart phone.
Unlike an invitation, save the date cards merely ask the recipient to set the date aside and inform that details and an invitation will follow. Other than that and possibly a URL link no other information should be included. With so many distractions today both digital and otherwise, a unique save the date card is essential for planning major events like a wedding or gala. Your guests simply need more time to plan than they did in years past. Creative save the date ideas make your announcement more impactful and memorable. For weddings, social soirees and galas alike, that naturally means more attention and more attendance.