THREE STEPS & A GREAT REASON TO CREATE AN EMPOWERING WORKSPACE
STEP 1 Start with a clean surface. Things will find their way back on, but a fresh perspective is the way to organize your thoughts, space and tasks. Once you have a clean space, it's time to put back just what inspires you to accomplish your goals. Stow the rest away—better yet, toss all you can muster the will power to part with.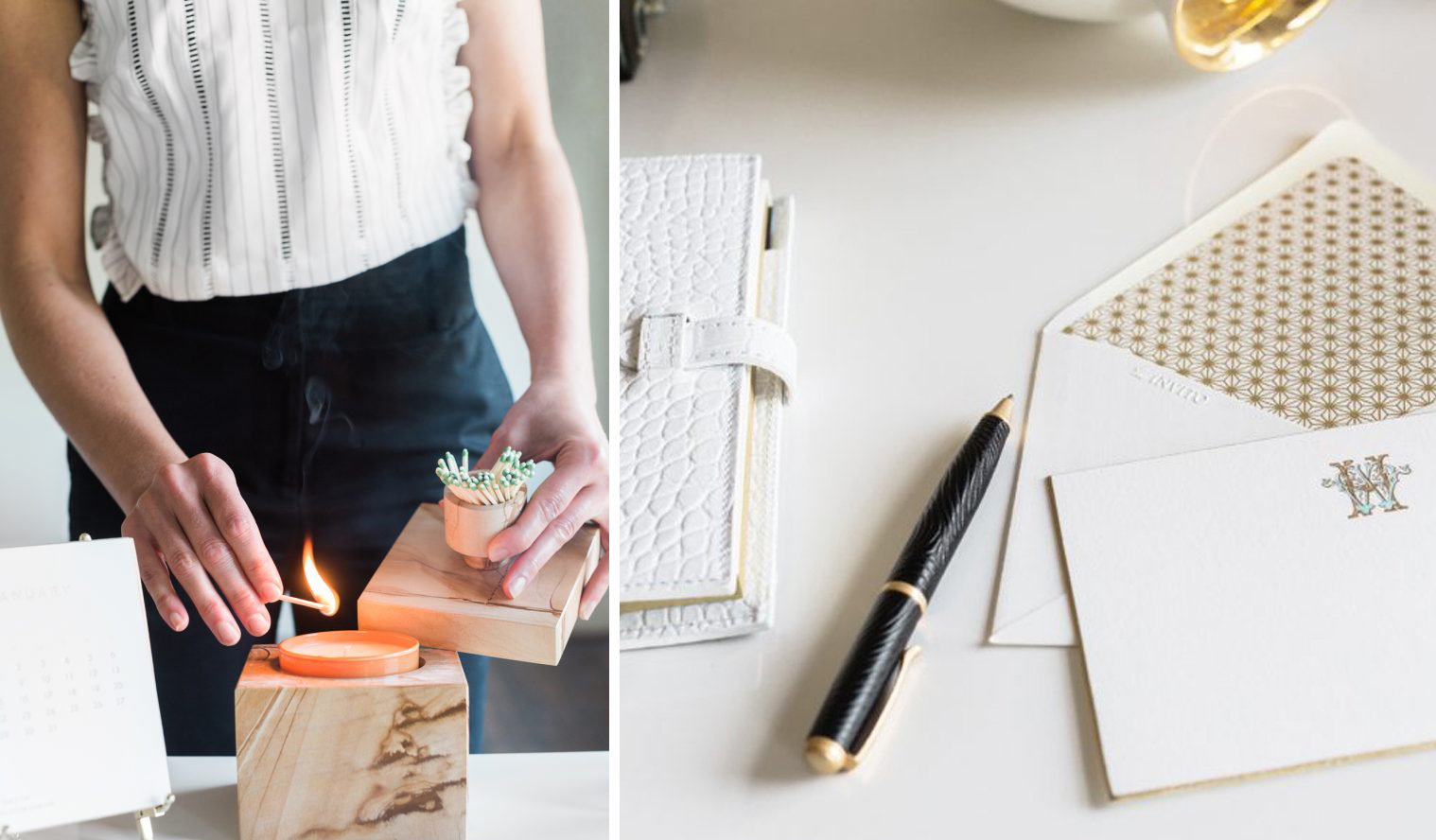 STEP 2 Prioritize. The two things I use daily are going back on the desk first. My Gretchen candle holder and my desk calendar. Even with all the technology I rely on, these two beautiful, primitive pieces keep my mood zen and my planning quick. People often ask why I don't use a digital planner. Of course, I do! I love paper but I'm not stuck in the dark ages. The truth is I don't just need a calendar one click away—I need it closer than that.
ELEVATE YOUR MIND WITH A STYLE UPGRADE
Next up, memo sheets. These are for quick notes that get slipped, stuck, or clipped to a variety of things. I'm partial to these limited edition Daisy Skull sheets at the moment. With a quick note, one might be slipped into a paperback I'm lending or a thank you token I'm sending. They've been known to show up under a friend's windshield wiper or door mat when I've dropped something by their house or work. I love these little sheets. Think of them as graduating from post-it notes. It's time—you've earned it.
STEP 3 Adult your desk. My stationery, of course, is a consistent go-to and always on my desk—which is why it has to be pretty! It, along with my tea, are rotating constants worthy of an investment in good quality. The first represens me. THe second pacifies me. Your work is thumbprint on this earth. Put something on your desk that reminds you to be grateful and caring to others, and to take care of the asset at the same time (thats' you!)
P.S. SHARE THE LOVE
As I work on new goodies for your homes and workspaces, I'd love to know what you have to have on your desk. Tell me your essentials. What keeps you coming back to that place that makes things happen. What's the power play always sitting at your fingertips. Share and shape your community of co-workers.