Sounds simple, right? Tell the host who is responding. This is actually left off often.
Whether there is a line or not, you write your name. 
Our example of below uses type to fill out these real, etiquette approptiate reply cards. We are by no menas implying you use anything other than your perfectly imperfect handwriting. We are, however, showing you precisely the right way to fill these little paper pretties out.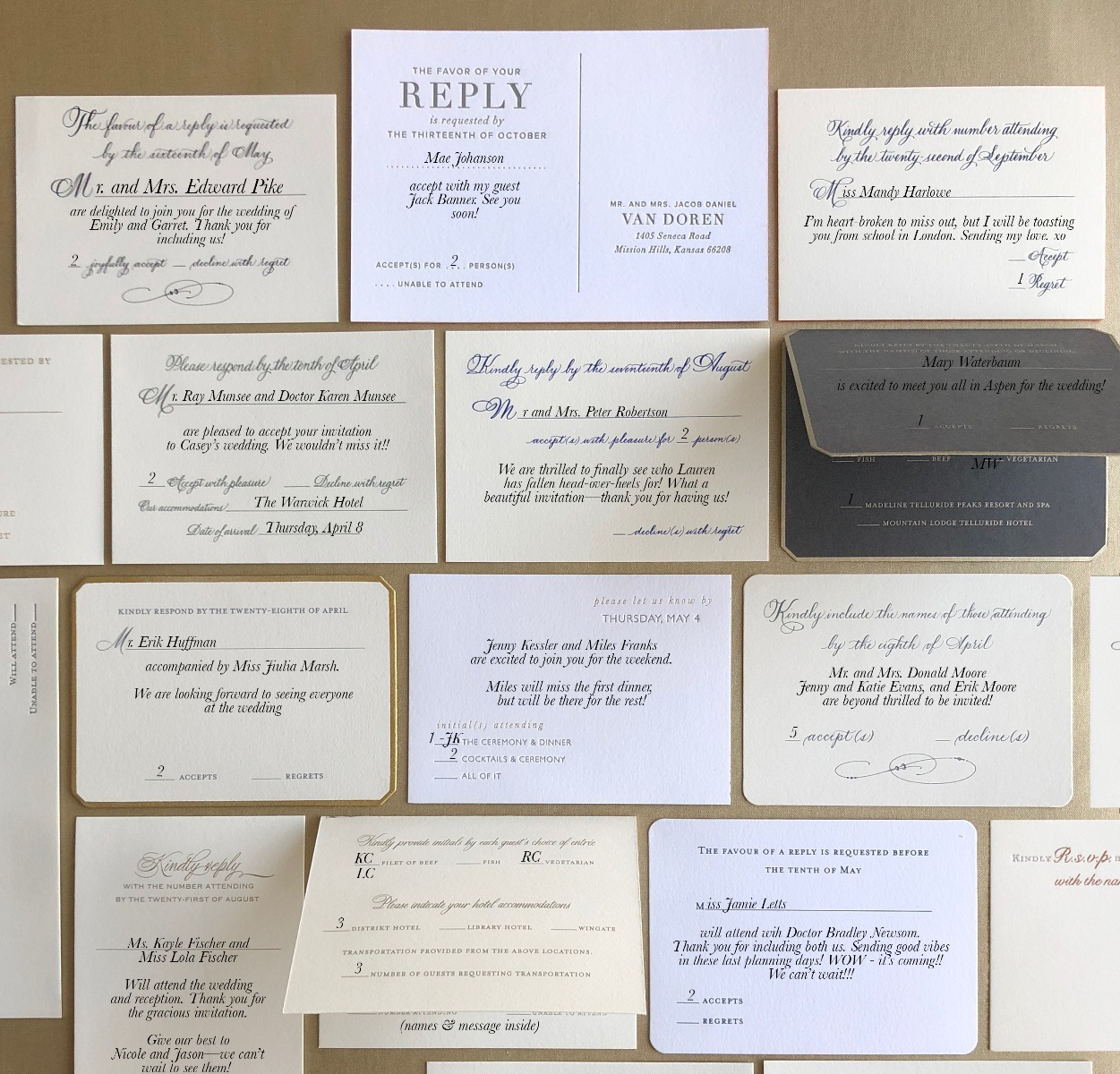 WHO'S ACTUALLY INVITED?
Your response is sent as one of these three ways, which is dictated by to whom specifically your invitation envelope was addressed.
1) AS A SINGLE
In this case write your name. Begin with your social title if the invitation is addressed formally. This means if the invitation is addressed to Miss Rachel Owen, respond as Miss Rachel Owen, as opposed to 'Rachel O' or something more casual. Don't worry—you can still be sassy in your response if that is your thing. The name, however, remains a courtesy written in-kind to the hosts way of addressing you. This is in case a host needs to reference it for accuracy when making place cards or other personalized guest items.
2) SINGLE with A GUEST
In this case write your name and the name of your guest. That's right, you have to commit to the date in order to respond. Your name goes first, preceded by your social title if the invitation is addressed formally (see the above tidbit about this). Your Plus One's name goes second, following the same protocol.
3) REPRESENTING the HOUSEHOLD
Make sure you don't assume. Are the kids on invited on the invitation's envelope? Respond with the the adults and their titles, then the children oldest to youngest, who will attend.
TITLE TIPS
Here's the quick guide to the most common social titles. These are NOT the same as professional titles. Clergy, military, and medical doctors use the titles from their respective fields. Lawyers and Ph.D. advanced degrees folks—this is not the place for your title, you are Mr., Ms., Mrs., or Miss when referred to socially (don't shoot the messenger—it's been protocol for decades).
According to Emily Post, the title Master can be used on formal correspondence to young boys until age eight. The young man becomes "Mr." when he turns eighteen. During the years between, no title is needed. Girls are referred to as Miss until they are married or choose to become Ms.
WRITE 1 - 2 SENTENCES TO THE HOST
This is etiquette 101—and the most often missed opportunity to shine. What do you write? Thank your host. Send well-wishes to the bride/groom, or gues tof honor. Be yourself—this isn't a formality requiring stodgyness. This is your moment to be encouraging, kind, grateful, accepting—all sorts of positive things. You decide. You be you.
THIS IS NOT A TEST
That's correct—there is no place for a check mark or an 'X' on a reply card. The correct way to respond is to write the number of guests in the household attending or declining next to the applicable option. If entrees are listed, use initials to indicate which guest prefers which dish.
Did we miss something? We'd love to anwser your questions. Leave us a comment.