Gifting at work can be a surprisingly complicated matter in terms of etiquette. With much gray area to consider, it's important to
examine your unique scenario. Before you begin thinking of what you will give, first learn about what is appropriate for your office.
The office gift giving etiquette tips below will help lead you in the right direction.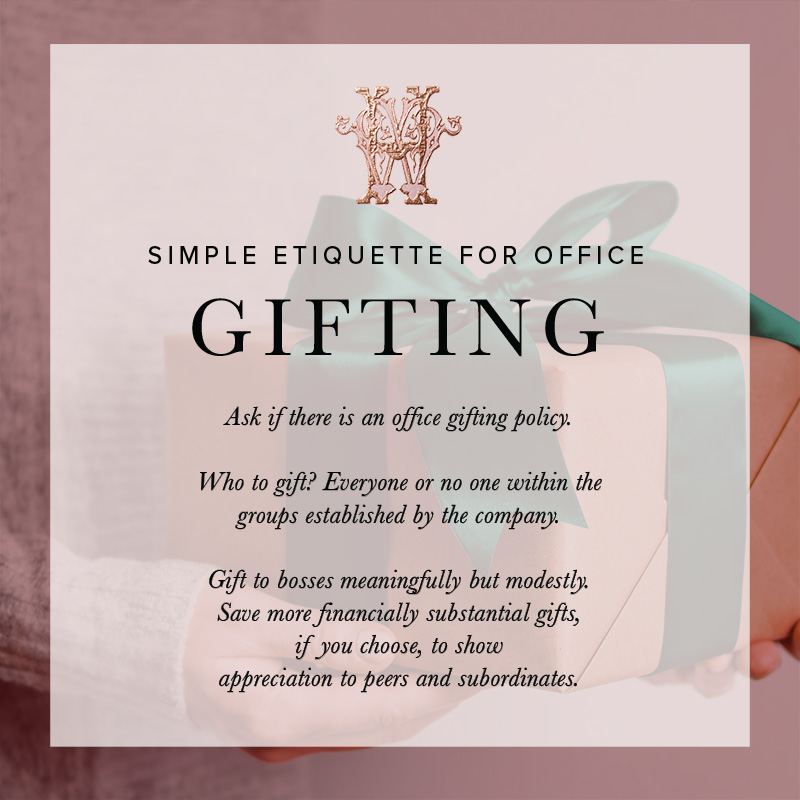 KNOW THE COMPANY
It is important that your office gifts align with company culture. First and foremost, find out if your company has a gifting policy. Many companies have policies about what clients, vendors, contractors and co-workers may give each other. In some cases laws may apply. A quick question to Human Resources or your boss might save you from unforeseen embarrassment or issues. Once you know the policies, think about the history of gifting in your company. Have you seen co-workers exchange gifts? Have gifts from senior staff members been to individuals, or more of a communal offering? The most important thing is to make sure that your plans and office gifting ideas align.
GIVE IT SOME THOUGHT
The whole point of giving a gift is to let somebody know that you appreciate and think kindly of them. To that effect, include something individual and personal with each gift, without showing favoritism. A simple hand-written note is perfect.
AVOID OVERSPENDING
The appropriate budget depends on both the company, and your position within that company. Keep the spending in proportion to your pay grade and position within the company's hierarchy. In otherwords, don't outspend those above you, whether you can or not.
AVOID PERCEIVED FAVORTISM - OR DISSATISFACTION
In this case, perception is most definitely reality. The rule of thumb is to give to an officially defined group of people. In a large office, giving gifts to just your teammates is acceptable. Think through your list, and avoid omitting or including based on how much you simply like or spend time with someone. Remember that giving in the office is a venture in both appreciation and professionalism. Groups are typically defined by a geographical location, project teams, or something similar. The point: be sure you follow the company's designations, not simply your own. Have an issue with one member of a group? What better time to take the high road than the holidays!
GIFT DOWN GENEROUSLY. GIFT UP CONSERVATIVELY
In the instance that you want to get your boss a gift, the best strategy is to team up with several coworkers, if not the entire department, and have everybody pitch in a few dollars to buy a gift. It is not necessary, and in some companies completely discouraged, to gift co-workers that rank higher that you organizationally. Gifting to your boss or another higher ranking individual can be considered unethical because it could lead to favoritism or a perception that you are a sycophant. Gifting your team members or subordinates, however, can be done more generously to show appreciation.
ALWAYS A HIT
Often the best office gifts are those without an actual dollar value. Homemade treats and handwritten notes are still a great bet. If you're making treats it's gracious to keep in mind possible allergies and varying food preferences. A word to the wise, avoid pressuring co-workers into trying your treats. Simply gift and go.
LET TACT AND GRACE BY YOUR GUIDE
The overriding theme in office gift giving etiquette is to let tact and grace guide your decisions. This is your work. It's of paramount importance to avoid stepping on toes. The holidays, in particular, can be the most difficult time of year to navigate professionally. Here are some additional examples of office gifting etiquette:
Avoid prank or "funny" office gifts unless that is the point
of an organized gift exchange.


Be mindful of religious and cultural differences. It's perfectly fine to offer a gift to anyone on your holiday of choice. Make sure, of course, you aren't out to prove a point, rather simply to offer a gift with no strings. It's also lovely to offer a gift on another's practiced holiday. Realize it is up to the recipient if they want to open a gift immediately or wait until later.


If gifting anyone based on a personal relationship, do so with discretion and present gifts privately outside the office. Keep in mind that people talk. Give this option ample thought before you decide it is right for your situation. Selective gifting among office mates is dangerous, and if it causes whispers or drama, problematic—even unprofessional.

Sometimes a co-worker will surprise you with a gift. When
that happens, be in the moment, be gracious and grateful. Do not bemoan the fact that you do not have a gift. Later, you can repay the gift with a handwritten thank-you card or perhaps by buying them lunch, coffee, or a round at happy hour.


Keep professional note cards or writing sheets in your desk. 
A handwritten, heart-felt letter is meaningful and powerful. Often, these surpass the perceived value of a gift.
Follow these gift-giving etiquette guidelines to avoid complications when you are giving gifts at work.
As always, the key is to use common sense and think professionally first, then personally.