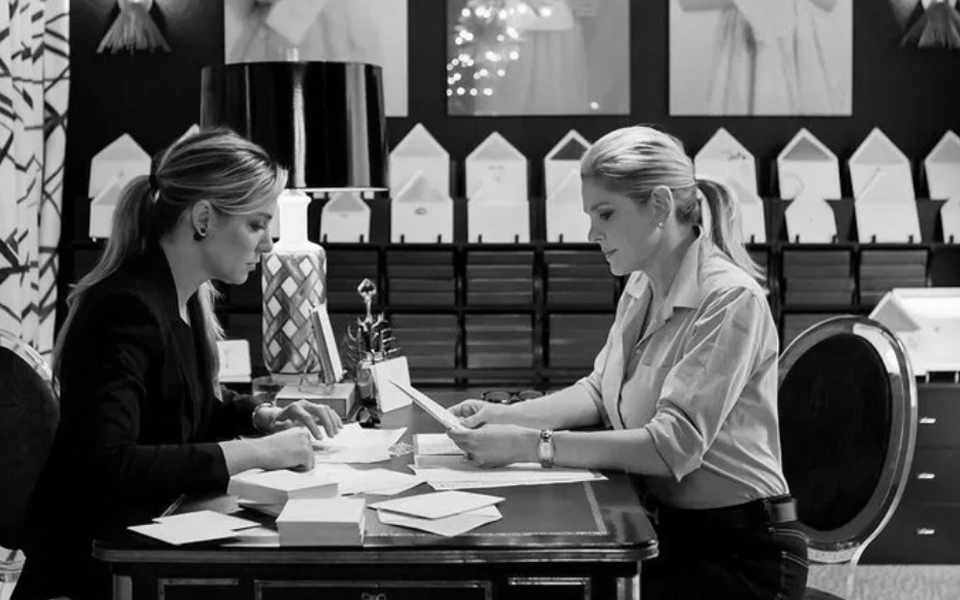 Let's begin, shall we?
Always begin with the hosts.All invitations are issued by the host(s). Weddings are certainly no exception. Hosts' names are spelled out on the invitation. Evening weddings especially, are traditionally written in formal language. This calls for verbiage you don't use regularly. It's important to be consistent. The whole invite is either worded completely using formal language (which I'm about to give you) or all informal/casual language, which you can find examples of here.
Sticking with formal, host's names, including middle names and titles are included for all parties except the bride, if her parent's are hosting. I'll tell you why coming up. Mr. and Mrs., Jr., Sr. and Ms. are the only titles that are  be abbreviated. If names are too long, omit the middle name. Do not use an initial.
For the record Jacqueline Ellen Boles is marrying Josh Louis Stiller.
HOSTED BY BRIDE'S PARENTS
(the traditional hosts)

Hosts are married
Mr. and Mrs. Andrew Gregory Boles
request the honour of your presence
at the marriage of their daughter
Jacqueline Ellen
to
Mr. Joshua Louis Stiller

Hosts are unmarried or remarried
(brides' mother gets top billing,
second line goes to the bride's father)
Mr. and Mrs. Andrew Gregory Longfellow
Mr. Andrew Gregory Boles
Jacqueline Ellen
to
Mr. Joshua Louis Stiller

HOSTED BY BRIDE AND GROOM

Bride & Groom are hosting their own
wedding in a church or other sanctuary
The honor of your presence
is requested at the marriage of
Jacqueline Ellen Boles
to
Joshua Louis Stiller

OR

Bride & Groom are hosting their own
wedding in a secular location
The pleasure of your company
is requested at the marriage of
Jacqueline Ellen Boles
to
Joshua Louis Stiller


HOSTED BY ANOTHER

Hosts are married
Mr. and Mrs. Blake Allan Tillman
request the honour of your presence
at the marriage of their niece
Miss Jacqueline Ellen Boles
to
Mr. Joshua Louis Stiller

Hosts are unmarried
Mr. and Mrs. Blake Allan Tillman
Ms. Katherine Wells Miller
request the honour of your presence
at the marriage of their niece
Miss Jacqueline Ellen Boles
to
Mr. Joshua Louis Stiller
MORE COMPLICATED?
Here are the key components. Any by all means, ask and we will help you!
The Titles When parents are presenting a child, no title is used. That is considered pretentious. This is why a bride has a title when someone other than her parents or herself is hosting, and does not have one otherwise. This is also why the groom is presented as "Mr." on a formal invitation. It has everything to do with the parent's of the bride addressing him with respect, and absolutley nothing to do with equality and preferential title use. 
Honor, Honour, and Presence The British spelling of honour, as in the "honour of your presence," is used only when the ceremony will take place in a place of worship. "The pleasure of your company," or acceptibly but less preferred by the experts, "honor" (sans the "u") may be used for civil ceremonies, religious ceremonies outside a sanctuary, or for reception-only events. Why?The elevated formality in the spelling (old English 'honour') is out of reverence and respect to a wedding involving a higher power. Armed with that knowledge, go forth and make good choices.
Use of "and" vs. "to"For a Jewish wedding, use the word "and" rather than "to" in between the bride's and groom's names. Why? In the Jewish faith, God brings together a man and a woman and their families. Due to the beliefs behind this union, the word "and" is traditionally used, as is the acknowledgement of the parents of the groom (but not in the hosting position on the invitation—that's covered further down); whereas in Christian faith a bride is given in marriage "to" a husband by her family. This subtle difference rests in those traditions.
Roman Catholic MassFor a Roman Catholic wedding where mass is to be part of the wedding ceremony, the invitation may include a phrase like "your participation in the offering of a nuptial mass" beneath the groom's name. Why? A nuptial mass is a ceremony of worship in addition to the exchange of vows in traditional Christian or secular wedding. To keep guests informed, this information is printed on the invitation as a welcome to both witness the marriage and participate in worship with the hosts.
Indicating timeTo indicate the half hour, use "half after" rather than "half past" or "two-thirty." Specifying the time as "in the evening" is not necessary. Traditionally, a formal invitation omits that verbiage. Today some feel a little fancier if they include it. Either is fine. Why? Much like the rules for the use of the British spelling of "honour" and "favour," the term "half after" is simply consistent formal wording. "Half past" is informal language. "Half past" is correctly used on invitations that are decidedly less formal, regardless of the occasion. 
Indicating dateThe date and year should always be spelled out. Inclusion of the word "and" is optional. Traditionally "and" was used, but current grammar dictates that omitting "and" is correct. Thus either choice is accepted as correct. Both the day of the week and the month are capitalized. Why? Again, formality dictates the numbers be spelled out. The capitalization stems directly from correct grammar. 
The venueTraditionally, formal invitations had no address line. Today, it is acceptable to have a line with the street location if the venue is not a widely known landlarm by all the guests. ZIP codes are never printed on an invitation. The city and state are on their own line, fully spelled out. Why? ZIP codes are required by postal regulations and are considered erroneous when included on a wedding invitation. State abbreviations are also written completely in keeping with formal written text.
Respondez…When the ceremony card also invites guests to a reception or to a ceremony not held in a place of worship, the term R.s.v.p. (written exactly as such) may be placed in the bottom left corner of the invitation itself. If the ceremony card only invites guests to the church, an R.s.v.p. line is traditionally not used. An exception today is a church where the entire congregation is not invited, and space is limited. ...s'il vous plait…A response line at the bottom left implies that a written response should be sent to the address of the hosts (on the outer mailing envelope). In this case, no reply card or envelope is included. If a written response should come to an address other than the host's return address, an address line is included just under the request line. No email addresses or phone numbers are included on a formal wedding ceremony card. If a reply set is included, as in most cases today, no mention of a reply is anywhere on the invitation. Why? The presence of a reply card tells the recipient that a reply is necessary, so printing R.s.v.p. is redundant. Phrases like, "Reply card enclosed" are only used in more mass-print, corporate settings. This is not appropriate for a social invitation.
Important Things to Omit If you are keeping things traditional, a few things will not appear on your wedding invitation card itself: attire, gifts, and any mention of children.
In the case that you feel an attire directive is absolutely necessary (and many of us do—it's perfectly fine), a proper attire phrase may be printed on the separate reception card on the lower right corner. Why? Frankly, it's considered rude to tell people to what to wear to a place of worship. The general idea is to be accepting in worship of all people as they are. When you are marrying in a place of worship, there is naturally an element of worship, so all are welcome regardless of their ability to dress your part. 
Gifts are never mentioned anywhere a wedding invitation. The family or the couple themselves graciously accepts any gifts given, and sure, you've spent time registering and have some expectations—but stop there. Why? It is poor taste to ask for a gift, regardless of the occasion. When someone wants to know where you are registered the will ask you, or a friend, or visit your website, or a host throwing you a shower will add it to their invitation. Your job as the wedding host, bride, or groom, is to sit back and be grateful for whatever things come your way.  
Kiddos welcome? Or not? The place to make your point is not on the invite. It is solely on the envelope. There are some hacks for the reply cards an expert can give you that are tactful, but they add dollars to the bottom line. The traditional handling of an adults only affair is to make a point to spread the word by mouth. If you are truly concerned about a specific individual, the tasteful solution is a little adulting with a phone call or face to face conversation. Why? First, it's simple phychology. This social intelligence has existed since the first hand-written note. Sensitive subjects are best addressed with vocal tones and facial expressions. Black and white text is almost always misunderstood. Second, there is never kind phrasing to exclude someone—anyone—from an event once they are in posession of the invitation. The names of those invited from the household are on the envelope. No one else in the household is assumed invited if they are not specifically named.
Choose your words carefully.Believe it or not, there are very particular reasons for invitations to employ certain words in specific situations. This is your place to shine and stretch those social muscles. Looking smart is always en vogue. If you need assistance, we've got your back! Just ask.