When to Use Titles on Invitations—and When to Skip Them
While the practice of using a title is steeped in tradition, it is far from outdated. The great news is, it is not at all complicated to understand. Furthermore, when wording something as important as a wedding invitation, this knowledge is pure etiquette gold. Here's the answer you are looking for and how it works, so you can intelligently and confidently make the decisions right for you.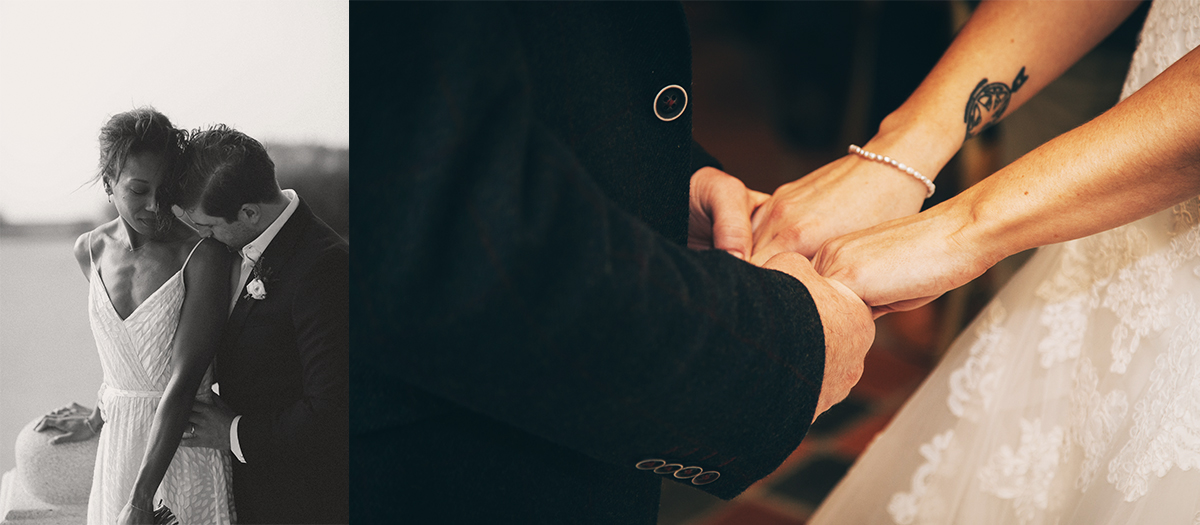 To make the best decision, let's start with the 'WHY.'
Why use titles? First and foremost, you've heard that the tone is set for your guests with the invitation (arguably even the save the date). Why is this a thing? The 'tone' you keep hearing about is perceived at the first sight of your invitation. Each guest naturally develops an expectation as to the aspects of your wedding. Formality being large player. This perception directs to their decisions on attire, gifting, even making the effort and arrangements to attend, and definitely how they plan to respond. Whoa—before you feel the pressure, it's not complicated. It's a a subtle little trick of human nature + upbringing.
Second, this etiquette guide is designed to walk you through all the perceived aspects of wording of a wedding invitation—line-by-line. We're not here to tell you what to do. We are here to tell you why traditions exist, what they really communicate, and how they have or haven't changed so you can make the choice that's right for you. With this resource you can be sure you are making a smart start to your new life. It's one more way we help you #livebeautifully.
On to decision number one. Is your wedding formal, informal, or somewhere in between? All are perfectly acceptable.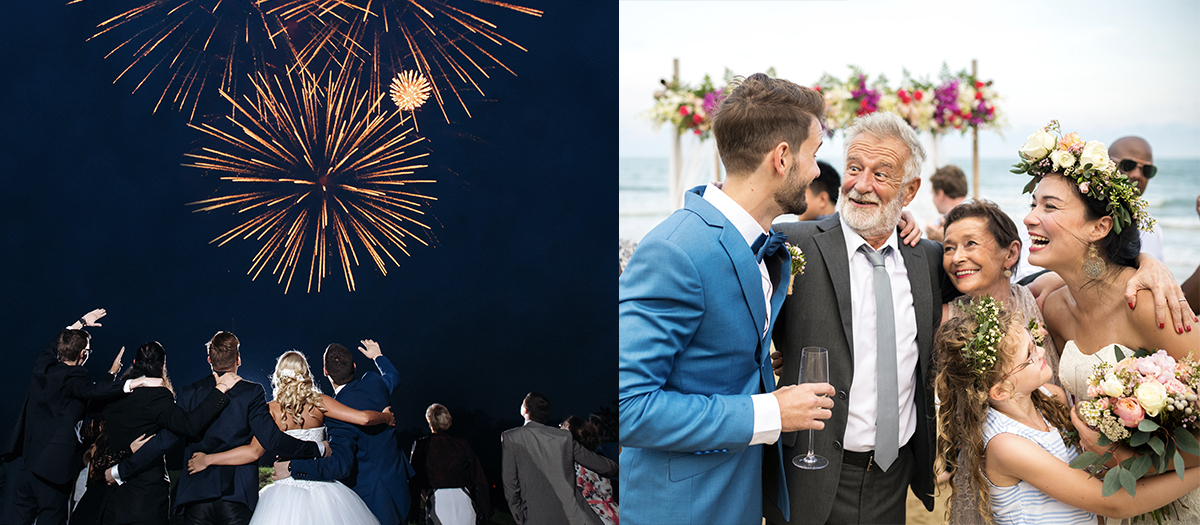 The Formal Choice. Put simply—formality requires a little education. On the subject of titles the etiquette is short and sweet. When parents present or introduce their own child, no title is used.
Why do I often see the groom with a title, but not the bride? We love teaching this one because it's so simple, but still unexpected and largely misunderstood. It's actually a very beautiful reason.
In a time where titles were more common, it was also common knowledge that presenting your own child with a title was seen as many things (ostentations, snobbish, assuming) but none of them good. Therefore the formal practice is to introduce your own children in a genteel way, without a their title.
In contrast, outside the intimacy of parent-child informalities, an adult respectfully introduces another adult by starting with their title. (Remember we are in formal mode.) Ergo, on a formal wedding invitation issued by the parents of the bride, she is introduced without a title out of family intimacy, and he is introduced with a title out of respect and peer-status.
The key to getting the formality correct is to know this has nothing to do with gender equality, and everything to do with understanding an educated formal introduction looks different, especially in writing, from a casual introduction.
What if we both want titles, or both don't?
In "Formal 101" first know this. Formality isn't something we use daily. Ergo you might just be learning that formality, etiquette, and tradition are timelessly tied together to create their own little trinity. Don't sweat it if you didn't know—most people today don't. On that note, this doesn't mean some traditions can't evolve—in fact the do. New traditions continually replace old as times change. The consensus today, for the reasons above, are still applicable for a correctly worded formal (as opposed to informal or fancy) invitation. But you certainly don't have to be formal. Next up, let's talk about that highly occupied space in between formal and informal.
What's not formal, but not casual? We've established that 'formal' per se, simply by its nature and definition is not an any-choice-fits situation. That said, you are the master of your event. If formal seems too much for you and your guest list, you still have options to don formal attire and dance the night away in grand style without seeming stuffy. Here's an evolution for you. In our casually inclined ways today, there is a third option. Can be anything between formal and informal—which is where most of us land. We simply refer to it as 'fancy.' Most fancy invitations use titles for parents but not necessarily for the bride and groom. They tend to have more design embellishments and don't necessarily need to follow the strict protocols of a formally written invitation. Attire suggestions are often added so guests are sure of what the hosts are planning. Sure, there are still etiquette lines to avoid crossing, but for the most part, a fancy invitation is an expression of the hosts, as they are, in their own charming, relatable words.
Informal all the way. Congratulations! You have one thing to remember. No titles are used anywhere on the invitation or envelope addressing. And, scene!
Below all three options are outlined with some wording samples for you.
** HOSTED BY BRIDE'S PARENTS **


- formal -

Mr. and Mrs. Richard Blake Stephens
...of their daughter
Emily Harper
to
Mr. Allan Douglas Penfolds

- in-between / fancy - 

Mr. and Mrs. Richard Stephens
...of their daughter
Emily
to
Allan Penfolds

- or -

Mr. and Mrs. Richard Stephens
...of their daughter
Emily
to
Allan
Son of Mr. and Mrs. Jacob Markham Penfolds

- informal -

Deborah and Richard Stephens
...of their daughter
Emily
to
Allan Penfolds

Hosts wish to name non-hosting
parents of the groom

 - formal - 

Mr. and Mrs. Richard Blake Stephens
...of their daughter
Emily Harper
to (or and)
Mr. Allan Douglas Penfolds
Son of Mr. and Mrs. Jacob Markham Penfolds

- in-between / fancy - 

Deborah and Richard Stephens
...of their daughter
Emily
 to (or and)
Allan
Son of Helen and Jacob Penfolds

 

** HOSTED BY BRIDE AND GROOM **


- formal -

...at the marriage of
Emily Harper Stephens
to
Allan Douglas Penfolds

- informal - 

Emily Stephens
to
Allan Penfolds

** HOSTED BY ALL **

- formal -

Together with their families
Emily Harper Stephens
to
Allan Douglas Penfolds
...request the

** HOSTED BY ANOTHER **

- formal - 

Mr. and Mrs. Blake Allan Tillman
...request...
at the marriage of their niece
Miss Claire Elizabeth Davis
to
Mr. Tyler Hammond Wilson

- in-between / fancy - 

Mr. and Mrs. Blake Allan Tillman
...request...
at the marriage of their niece
Claire Elizabeth Davis
to
Tyler Hammond Wilson

(or omitting middle names)


Mr. and Mrs. Blake Tillman
...request...
at the marriage of their niece
Claire Davis
to
Tyler Wilson

- informal - 

Hannah and Blake Tillman
...request...
at the marriage of their niece
Claire Davis
to
Tyler Wilson

** SAME SEX MARRIAGE **

There are not different rules.
The invitation reads as a sentence
(sans-punctuation)
and the hosts are introducing their
children or they are not.

Consistency is key.
All parties are addressed formally with titles,
or none are addressed in this way.

 
What about other titles? Mr., Ms., Mrs., and Dr., can be abbreviated, however all others are written out, including Junior, and Senior. 
Miss used for any unmarried woman. Miss traditionally was used to address an unmarried younger woman, from childhood to early adulthood. Today Ms. is often used for single women in a professional environment. 
Ms.may be used today for any woman over 18. Traditionally the age was higher and Miss was used through the twenties. It can be used for any adult woman; however, it is most commonly used for divorced women, professionals, and when one is unsure of someone's marital status.
Mrs. was traditionally used by a married woman in conjunction with her husband's last name (i.e.: Mrs. Darrell Jones). Today, women use Mrs. in combination with either their first and surname, or their husband's first and surname.
Mr.is used for all men over the age of 18, unless they have a social title listed below. Master, however, is used for boys under the age of 8. No title is used for boys in between 8 and 18 years of age.
Doctor is used for any person with such a designated advanced degree, whether medical or professional.
The Honorable is used for living U.S. elected officials other than the President, whether in office or retired. This is mostly true for state and local governments as well, unless governed by another local tradition. It is used only formally with the full name. It is not used for the deceased. The proper written form is The Honorable (full name), (office held).
The Reverend (and other clergy) are written slightly differently than they are spoken. Protestant clergy are often referred to as 'The Reverend' or 'Pastor'. On an invitation, The Reverend (Mr./Dr.) and Mrs. Michael Kellor is written.
When husband and wife are both clergy, follow the same format as a husband and wife who are both doctors. If either of the couple also has a doctorate degree, that person's name would go first: The Reverend Dr. Emily Kellor and The Reverend Mr. Michael Kellor.
Military Titlestraditionally were not used by brides, but are increasing used (and encouraged) today by anyone on the invitation possessing such a title. Basics and examples are lister in scenario fashion:
If a bride or groom is a senior officer, the title appears before their name,
followed by the branch or service on the line below.
Colonel Drew Oliver Gatenby
United States Air Force
If a junior or company-grade officer, their titles appear under their name,
followed by the branch of service on the same line.
Andrea Rebecca Barnett
Second Lieutenant, United States Air Force
For enlisted personnel, rank is typically omitted.
The full name is written on one line, with the branch of service underneath.
NOTE: 'Mr.' is never used to address or refer to an officer on active duty.
Joseph Peter Jones
United States Air Force
Esquire today is primarily confined to business correspondence between attorneys and justices of the peace. This is not used on an invitation or addressing social correspondence.
Who comes first? Special titles lead. For example, if she is a doctor and he is not, they are Dr. Jane and Mr. Samuel Watson. If they are both doctors, they are The Doctors (or Drs.) Watson or The Doctors (or Drs.) Jane and Samuel Watson.
There is a long list of title etiquette for all kinds of scenarios. For your specific match, just ask!